Local 391 Recommended Primary Candidates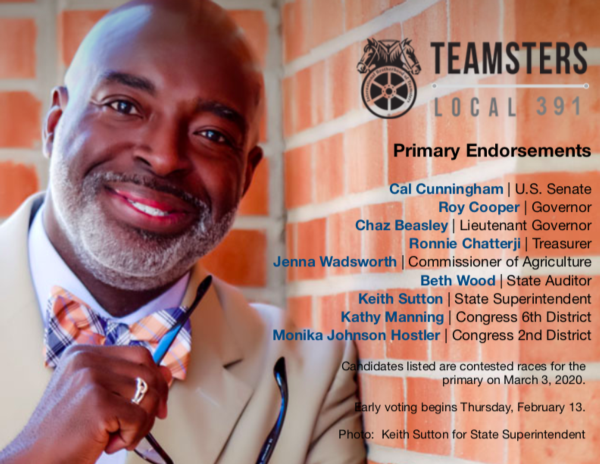 Keith Sutton, candidate for Superintendent of Public Schools, anchors Local 391's list of recommended primary candidates.
As the primary election approaches on March 3, Local 391 announced its recommended candidates to its members at February membership meetings in Greensboro and Raleigh. Early voting started on Thursday, February 13 and continues through Saturday, February 29.
For a list of federal and state candidates recommended to Local 391 members, download the PDF below this article. For a list of candidates endorsed at the local level, including General Assembly races, visit the NC AFL-CIO 2020 Voter Guide here.
Candidates without primary opponents — like Attorney General Josh Stein — are not listed in this batch of candidates, but will be released in November for the general election.
"A primary election is an opportunity for voters to choose a candidate for each office to represent their party in the General Election in November," said Local 391 President Mike McGaha. "This list is comprised of candidates we believe will fight for our members and workers across North Carolina."
In a primary election, Republicans, Democrats, and Libertarians vote in their respective political party contests, while unaffiliated voters can choose which party they would like to participate in.
Local 391 reminds voters that a photo identification is not necessary to vote in the primary election this year after a federal judge found North Carolina's voter identification law to be unconstitutional and issued a restraining order against the law taking effect.
And while February 7, 2020 was the deadline to submit a regular Voter Registration Form, voters can still register to vote if they early vote between February 13 and February 29. Note: Voters cannot register to vote on primary election day (March 3).
"In order to vote in North Carolina, you must be registered," said President McGaha. " If you've already registered, you should still double-check that your registration is current and correct.
President McGaha said voters can look up their registration online at the NC State Board of Election website (ncsbe.gov). Voters can also download sample ballots.
"Remember, you can take Local 391's print list or a list on your phone into the polling place when you vote to help you remember who you want to vote for," said President McGaha.
Download:

TeamstersPrimaryEndorsements2020.pdf