Raleigh Police Officers Deserve Better Pay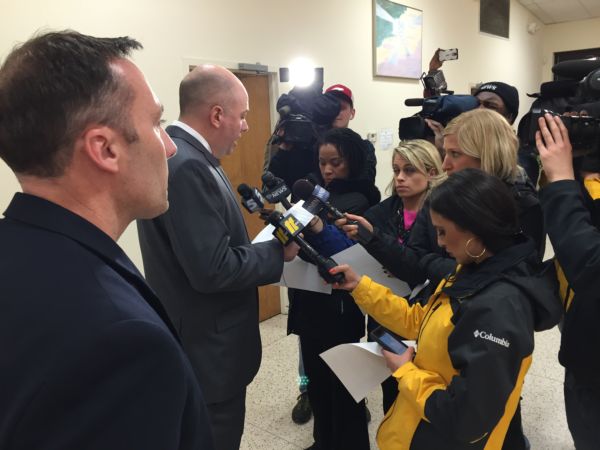 RPPA president Matt Cooper discusses the importance of pay for Raleigh police officers as Local 391 VP Rick Armstrong stands with him.
The Raleigh Police Protective Association, the law enforcement division of Teamsters Local 391, launched a campaign on February 24 to increase pay in Raleigh for police officers.
"Raleigh police officers are some of the lowest paid officers in the country and in Wake County," said RPPA president Matthew Cooper, who is a detective for the Raleigh Police Department. "Not only are we having a tough time recruiting police officers to come and work in for Raleigh, we are having a difficult time retaining our officers."
Cooper said the pay issue is now a crisis as the population of Raleigh grows and the need for highly trained police officers increase.
Here is a comparison of Raleigh Police Department starting pay versus communities in Wake County:
Knightdale PD $41,497
Cary PD $40,456
Wake Forest PD $39,891
Fuquay-Varina PD $38,309
Rolesville PD $37,937
Raleigh PD $34,281
To illustrate the point, RPPA member Bobby Hudson, a Raleigh police officer trying to provide for his family, sat down with our communications team to explain how the low pay effects his family.
Police officer pay in Raleigh is also below cities of similar population in the US.
Minneapolis, MN $54,504 400,070 (population)
Arlington, TX $54,218 379,577
Miami, FL $50,490 417,650
Colorado Springs, CO $47,688 439,886
Tulsa, OK $45,962 398,121
Wichita, KS $44,761 368,552
Omaha, NB $41,537 434,353
Charlotte, NC $41,081 792,862
Virginia Beach, VA $40,650 448,479
Atlanta, GA $34,726 447,841
Raleigh, NC $34,281 431,746