Local 391 Meets with House Speaker on Budget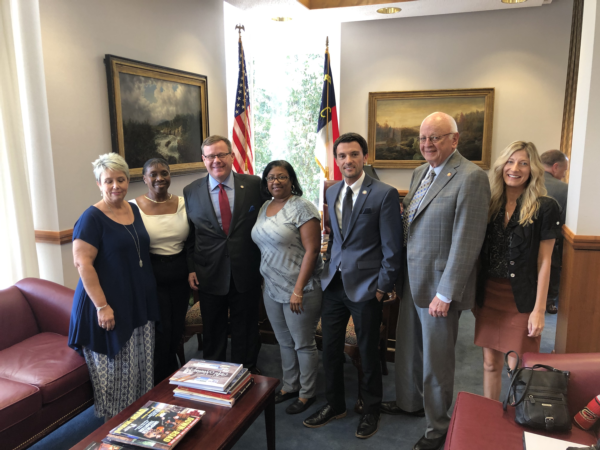 Deborah Phillips, JoCarolyn Wilkins, Speaker Tim Moore, Nikki Cheek, Rep. Jon Hardister, Rep. John Faircloth, and Rachel Eitzen.
Local 391 met with Speaker Tim Moore (R-Cleveland) in his office on October 2 to discuss the General Assembly's budget and its inequitable treatment of non-certified school employees slated for a 1% raise while most state employees receive a 2.5% annual increase.
Attending the meeting on behalf of Local 391 was trustee JoCarolyn Wilkins, a Guilford County Schools bus driver; Nikki Cheek and Deborah Phillips, Wake County Public Schools bus drivers; Recording Secretary Rachel Eitzen; and Brian Lewis, Local 391's lobbyist.
In addition to Speaker Moore, House Republican Whip Jon Hardister and Appropriations Chair John Faircloth, both from Guilford County, attended the meeting, along with budget policy advisor Nelson Dollar and House Chief of Staff Bart Goodson.
After hearing from Local 391 that the General Assembly's budget gives bus drivers, cafeteria workers, and custodians working in North Carolina's public schools less of a pay raise than bus drivers, cafeteria workers, and custodians working in state government, Speaker Moore went to his desk and brought to the conference table a bill he is working on to bring non-certified school employees to the same level as state employees in this year's budget.
Speaker Moore said the bill has yet to be finalized, but showed Local 391 members a draft and said he plans to introduce the bill in House appropriations committee in the coming days. He asked that Local 391 work with him to get the votes necessary to pass the bill in the House, and to send a strong message to the Senate that this bill needs to pass and make it to Governor Roy Cooper's desk.
"Overall, it was a positive meeting and we certainly feel like the Speaker is making the right decision to bring us up to the same pay raise as state employees," said Eitzen. "And while, we let the Speaker know that we appreciated his work on the draft bill, and we also let him know emphatically that we feel strongly that non-certified public school employees should also make the $15 minimum given to state employees in the 2018 budget."
Speaker Moore said he agreed with the $15 minimum pay for public school employees (a bill sponsored by Rep. Hardister), but said the appropriation was around $100 million and was slowing progress. He said he wanted to work with Local 391 in the 2020 short session to address the discrepancy.
In the meantime, Local 391 is working on contacting House members to pass the supplemental budget offered by Speaker Moore. Members are encouraged to write to Rep. Jon Hardister at jon.hardister@ncleg.net and to share with him the following:
1) Tell him what job you perform in the school systems you work.
2) Tell him you appreciate him working on behalf of non-certified public school employees.
3) Tell him what a 2.5% pay raise would mean to you, your family, and your ability to pay bills.
"Once we get the bill out of the House, we will then turn to the Senate with action steps for our members to take," said Eitzen.